Pocketable PCs manufactured by Symbol Technologies, Inc. utilize a durable design and mobile wireless connectivity.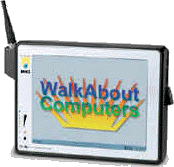 Pen-Tablet Computers manufactured by Walkabout Computers, Inc. provide the power and performance of a notebook computer and mobility of wireless technology.

Barcode Printers manufactured by SATO America, Inc. uses thermal printing to effectively label and manage components.

Offers multiple data management options
Up-to-the-minute data on the job site by way of wireless technology connected to a remote system.
Ergonomic design for ease of use.
Microsoft Windows&reg powered interface provides a familiar environment for users.
Durable design offers protection from the environment.
Bar code scanning for component data management can be integrated into component tracking applications.
PIM software capablilities of a standard pocket PC.

For additional information on the PPT 2700 & PPT 2700-2D Pocket PCs (pictured to the left), please go to Symbol.com.




Performance of a laptop combined with the mobility of wireless connectivity.
Rugged shock-resistant design ensures stability in the modern workplace.
Customizable options including display, outdoor features, and battery configuration.
High-level integration.
Flexible wireless communication options.
Simple in design, yet powerful in capabilities.



For additional information on the HH3 WalkAbout Computer (pictured to the left), please go to WalkAbout-Comp.com.



Incorporate command language into existing applications.
Small, convenient design allows for storage in a variety of workplace locations.
Thermal printing allows for a 2 to 1 ratio of media to ribbon allows for a generous supply of labels to be printed per ribbon roll.
Easy to clean and maintain.
Low-cost, low-volume labeling.
Easy to use.
Simplify your component management.



For additional information on the CX Series Desktop Printers (pictured to the left), please contact our offices by phone at (804)353-6880, or e-mail at Salesdept@StewartTech.com.